A - Age: 38

B - Bed size: King-size water bed

C - Chore you hate: cleaning the cat litter

D - Dog's name: Max and we only have one month until Sunnie arrives

E - Essential start your day: Doggie kisses

F - Favorite color: It's a tie between blue and purple

G - Gold or Silver: both

H - Height: 5'5"

I - Instrument you play: I have played piano and flute but none for many years

J - Job: retired

K - Kids: 3 feline and 1 (soon to be 2) canine

L - Living arrangements: with husband

M - Mom's name: Lynda

N- Nicknames: none really

O - Overnight hospital stay other than birth: had tonsils out and then for my heart issues

P - Pet Peeve: Apostrophe used to indicate plural (ex: Employee's Only)

Q - Quotes from a movie: "I ask for so little. Just fear me, love me, do as I say and I will be your slave." Jareth from Labyrinth

R - Right or left handed: Right

S - Siblings: 2--one brother, one sister

T - Time you wake up: depends on the day but not usually before 9 unless I have to go somewhere

U - Underwear: yes

V - Vegetable you dislike: I'm not keen on corn not on the cob

W - Ways you run late: Ravelry, trying to convince the dog to get into the car, having husband say "Did you print a map?" as he walks out the door

X - X-rays you've had: Chest, leg, teeth

Y - Yummy food you make: Triffle

Z - Zoo Favorite: big cats, bats
I saw this somewhere else but thought it would be fun to answer.
Current Mood:

happy
So besides working on the coat, I took a little time and did a few swaps with the Odd Ducks of Ravelry. I was in a Firefly swap where I made a shiny strawberry project bag.
And then I did a Day of the Dead swap where I made this great tote bag.
For November I did a sushi swap. I made some great cedar sachets for my swapee.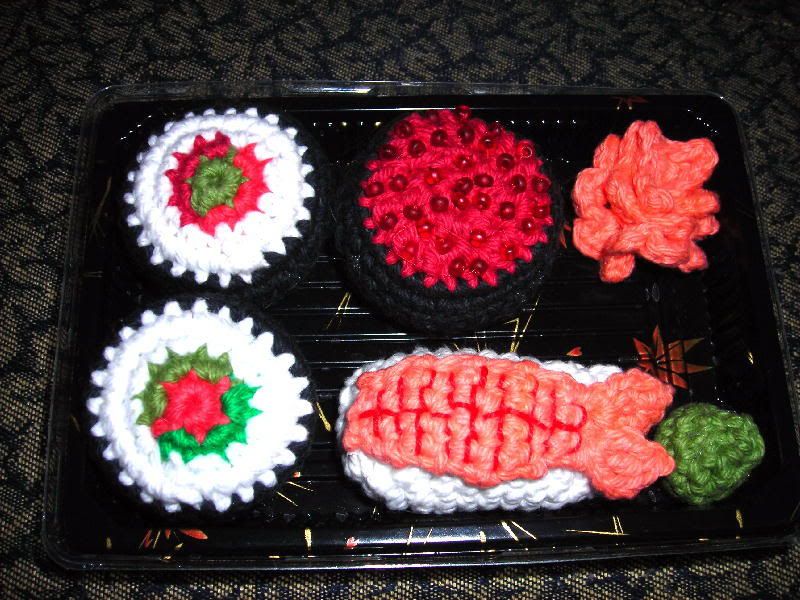 And I did a tea swap where I made an adorable tea set.
I am going to be starting on a few Christmas presents next.
Well, first and foremost, I have finished the Philosopher's Coat! It has been a long, hard road to get this thing done. I have used more than 4 miles of yarn and spent many months crocheting but the end result is gorgeous, if I do say so myself.
http://dragcave.net/user/magicatt
If you click on "view" you will help my babies to grow. If you want your own, click on the cave. I have my first hatchling--a pretty purple girl. I'm trying to figure out a good name for her. She'll be named when I figure something good out.
I've just become totally addicted to hatching dragons. If you want to see my dragons, go here:
Current Mood:

bouncy
These were a nice break from the Philosopher's Coat, which can feel like it's taking over the universe sometimes.
Here are some pictures of the cozy and the charm.
I have just purchased a new purse, which is always a trying experience. I can never seem to find something that fits all my needs. I got the latest bag from ebay (Which leads me to a quick question. Why the heck do people snipe a bid when there are 6 of the same identical items up with no bids on them? Do people simply enjoy sniping bids?) Needless to say, it looks promising. Having used the Buxton Organizer for a few months now, I got very used to having a lot of space and a sling bag shape but I really hated that the only thing holding most of my stuff in was the snap flap. My stuff kept falling out around the edges and I lost countless pens out the side. This bag is more zippered pouches, so I'm hoping that won't be an issue. The one thing it was missing was a cell phone holder. I don't use my cell phone much but I really don't want to have to go digging for it when I need it. I had originally thought I'd use my Piore cell bag but it is really looking a lot worse for the wear these days. Instead, I designed and made a Totoro cell cozy and a matching Totoro strap charm. I'm not entirely sure if I'm just going to have the cozy snap to the purse or if I'm going to make a small strap that will snap to itself or a plastic ring or something. I need to get the purse in to figure out exactly where I want to hang the phone first.
Current Mood:

productive
Back to the coat, here is a picture of the full back in all it's glory.
I finished the back of the Philosopher's Coat. It is amazing and huge. It was a real pain to do the last bunch of rows because of all the cables (which is partially my own fault for adding them and the crossed doubles instead of the raised doubles that would have been way too many inches across and, of course, the fact that the pattern is simply off the same way it was for the sleeves, thus leaving me several inches short of the supposed width.) The problem with the cables is just how many times I have to flip the whole thing around--and they eat up yarn! I've already bought some more yarn to make sure I can finish this project but I might need to buy a bit more. We'll see. It's not like it's a huge tragedy to buy more Peaches & Creme. The yarn is so nice and I keep getting the coolest stuff in the grab bags (which I must purchase every time I order.) I got some rayon Petalspun in a royal blue and some crochet thread as well as some great worsted. It's such a bargain.
Current Mood:

artistic


Tonight I think I will be starting back on my Philosopher's Coat. I'm feeling much better about it now and can't wait to get the back finished. All of the colors are pretty well set as the pattern is mirrored and repeated for the remainder of the piece so it should be fairly easy. I can't wait to get the whole back done. I think it's amazingly powerful to see so much of my color choices and stitches all in one place.
I have never ever had a problem with a project unraveling. Well, I have had kitties and doggies who pull my yarn and then it unravels from the end I'm working on. And, while that might annoy me a lot, it isn't the end of the universe. Sunday I lost a piece of the Philosopher's Coat to it unraveling IN THE MIDDLE. Well, technically not the middle. It was in what would be the dead center of the coat and it was at the start or end of a color change. Still, this never happens. I'm very careful with how I secure the ends, so this was a huge shock. After much crying and desperately trying to stitch the two pieces together, I had to admit that the whole thing was just coming apart. Thankfully I was able to keep a majority of the half of the back I'd been working on. The pattern actually has you make a center panel and then continue to the right, reattach on the other side of the center panel and then go left. With some careful unraveling, I was able to remove the center panel and now will redo the center panel and then go to the left. Hopefully it will turn out about the same and look fine. It became too much drama and stress, though, and I needed a break soI worked on some things for a swap I'm in. I did two thread amigurumis which must remain a surprise until my spoilee gets her package. I don't want to ruin the fun for her just in case she happens to be reading along. ;)
Current Mood:

calm
And let's not forget operator error. I spent a bunch of time pulling out some of the knurl rows and changing the colors. I just wanted the colors to balance and there were a few colors that I had more difficulty adding in than others. I'm very pleased with the results so it was time well spent. Now that I have a better feel for how the colors work together that shouldn't be as much of a problem when I get to the body of the coat.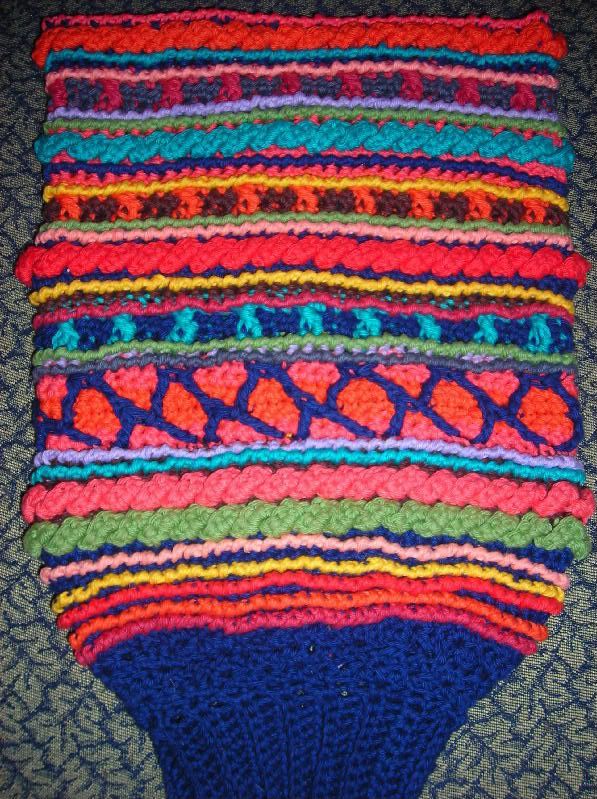 I finished the first sleeve on the Philosopher's Coat. There were some issues with the pattern (ugh!) First of all, the stitch descriptions were terrible. At least two of them (crossed doubles and diamonds) had me going in circles. I did figure them out but it took me a bit. I also found that the sleeve chart is really missing an entire repeat. When I finished the stitches on the chart, I was only at 15" and not the 18" promised length. I checked my gauge (the diamonds are 8 rows, so they should be 2" according to the gauge and mine were.) As I looked at the picture of the coat in the pattern, I realized that there should be an additional row of knurls (to make 2,) a row of crossed doubles, two rows of knurls, a row of cables and ending with one row of knurl. If you look a the pattern chart, these rows repeat twice but I think it should be three times. That extra repeat adds up to 3" and brings me to the correct 18" length. Knowing what I know, the second sleeve should go a lot easier.
Current Mood:

pleased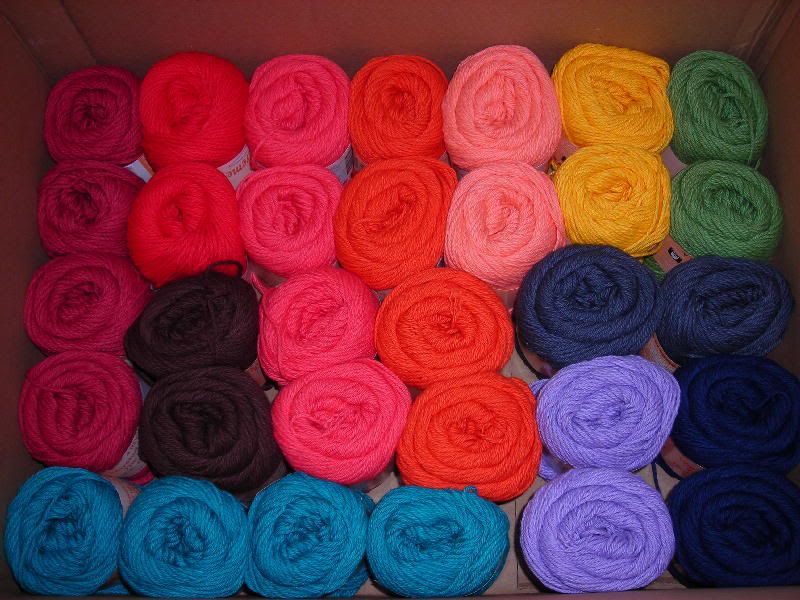 My friend Matty said that the yarn was bright. It's funny that I hadn't really noticed that it was bright but I do always seem to pick bright colors. They just make me happy.
As I write this, the yarn is in the washing machine. I always wash my yarn first. I tie them into pieces of the legs of pantyhose and then wash and dry them. That way I won't have to worry about the finished item needing to be blocked or not being able to be washed without shrinking. The hardest part of it is that it takes several times through the dryer and then usually re-spinning the balls so that the inside is on the outside because the inside is always the damp part. It's a lot of work but it will be worth it. This coat will be amazing when it's done.
I've decided to make the Philosopher's Coat designed by Ruth Atkinson (found in Donna Kooler's Encyclopedia of Crochet.) I've chosen to make it in Peaches & Creme cotton yarn instead of Philosopher's Wool. I have a wool allergy that doesn't allow me to work with wool. I can wear it sometimes, but I really can't play with it without suffering. The P&C is a really soft and lovely cotton yarn (and one of my favorites) that comes in so many colors that it was a logical choice as a substitution. My yarn arrived today. Here's a picture of it all arranged to give you an idea of the color palate I'm using.
Current Mood:

happy